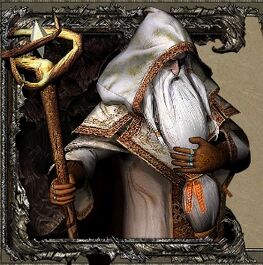 Description:
A fool who mistakes this old man for a rich, helpless elder will very soon regret his mistake if he attempts to do anything evil in his presence.
Attack Type -Ranged
Attack Source -Air
Target -All
Movement Range-3 hexes
Lv22 Attributes
Edit
Health -780
Armor -6
Critical hit -0
Attack power -140
Initiative -20
Cover Points -0
Lv22 Stats
Edit
Endurance -26
Strenght -6
Intellect -56
Agility -30
Dexterity -52
Lv22 Magic Resistances
Edit
Fire -45%
Water -15%
Air -55%
Earth -20%
Mind -10%
Death -5%
Special Abilities
Edit
Invulnerability -Caster cannot move, but cannot be harmed by any way.
Ad blocker interference detected!
Wikia is a free-to-use site that makes money from advertising. We have a modified experience for viewers using ad blockers

Wikia is not accessible if you've made further modifications. Remove the custom ad blocker rule(s) and the page will load as expected.