Description:
The Titan is an immense, stalwart creature; she towers far above enemy armies.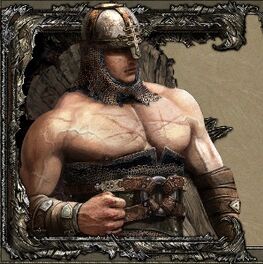 Description:
Summoned from the depths of time, the Titan embodies brute force and power. He's not a monster yet, but already not human, he is capable of crushing the enemies of the Empire.
Attack Type -Melee
Attack Source -Weapon
Target -Single
Movement Range-3 hexes
Lv18 Attributes
Edit
Health -900
Armor -17
Critical hit -0
Attack power -192
Initiative -40
Cover Points -2
Lv18 Stats
Edit
Endurance -45
Strenght -48
Intellect -4
Agility -20
Dexterity -32
Lv18 Magic Resistances
Edit
Fire -10%
Water -45%
Air -35%
Earth -25%
Mind -15%
Death -0%
Special Abilities
Edit
Earthquake -Hits all enemies with Earth damage.