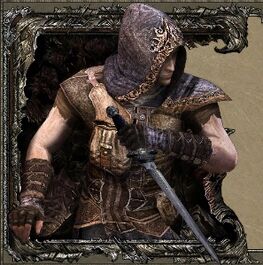 A Thief is a master of deceit, mischief and trickery. One of the bravest warriors of the Empire, he walks in the darkness, bearing the light of faith in his heart - and there is no mystery, that can remain hidden from him.
Attack Type -Melee
Attack Source -Weapon
Target -Single
Movement Range-4 hexes
Lv1 Attributes
Edit
Health -325
Armor -12
Critical hit -0
Attack power -54
Initiative -50
Cover Points -0
Lv1 Stats
Edit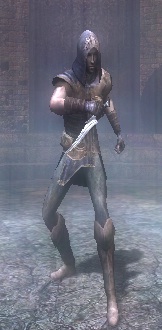 Endurance -13
Strenght -10
Intellect -8
Agility -18
Dexterity -17
Lv1 Magic Resistances
Edit
Fire -0%
Water -0%
Air -15%
Earth -5%
Mind -10%
Death -10%
Starting Equipment
Edit
Acquired Equipment
Edit
Active Abilities
Edit
(Must be learned, in order to use)
Poison - Poisons target for 3 turns, dealing 100 damage per turn.
Blindly Teleport - Caster is teleported to a random point on the battlefield .
Steal - Attempts to steal target. Global Skill
Envenom - Lowers all stats of enemy squad members by -5. Global Skill
Duel - Challenges Enemy squad leader to a duel. Global Skill
Gains 25 health for every point of Endurance.
Gains 2 of attack power for every point of Strength
Ad blocker interference detected!
Wikia is a free-to-use site that makes money from advertising. We have a modified experience for viewers using ad blockers

Wikia is not accessible if you've made further modifications. Remove the custom ad blocker rule(s) and the page will load as expected.