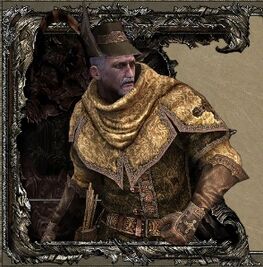 Traveling quickly around the realm, the Ranger is ready to fulfill any scouting mission. He seems weak and fragile, but his main advantages are sharp eyes and precision.
Attack Type -Ranged
Attack Source -Weapon
Target -Single
Movement Range-3 hexes
Lv1 Attributes
Edit
Health -360
Armor -12
Attack power -58
Initiative -30
Cover Points -0
Lv1 Stats
Edit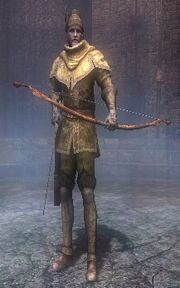 Endurance -8
Strength -18
Intellect -7
Agility -10
Dexterity -22
Lv1 Magic Resistances
Edit
Fire -10%
Water -15%
Air -55%
Earth -15%
Mind -5%
Death -15%
Starting Equipment
Edit
Acquired Equipment
Edit
Active Abilities
Edit
(Must be learned, in order to use)
Poison - Poisons target for 3 turns, dealing 100 damage per turn.
Extra Attack - Gain additional attack next turn.
Teleport Enemy - Enemy is teleported to any point on the battlefield.
Gains 45 health for every point of Endurance
Gains 2 Attack Power for every point of Strength
Gains 1 Attack Power for every point of Dexterity