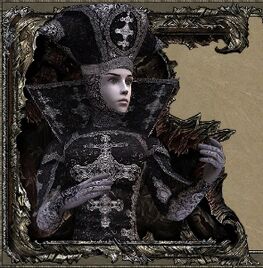 Description:
The Almighty speaks directly to the Prophetess, and she speaks His will to those who listen.Her word also has strong healing powers..
Attack Type -Ranged
Attack Source -Divine
Target -All
Movement Range-4 hexes
Lv22 Attributes
Edit
Health -750
Armor -7
Critical hit -0
Attack power -75
Initiative -10
Cover Points -0
Lv22 Stats
Edit
Endurance -25
Strenght -9
Intellect -50
Agility -69
Dexterity -20
Lv22 Magic Resistances
Edit
Fire -30%
Water -10%
Air -35%
Earth -15%
Mind -0%
Death -0%
Special Abiliies
Edit
Dispel Debuff -Removes negative effects from the target.
Eagle Eye -Increases by 50 dexterity of an ally.