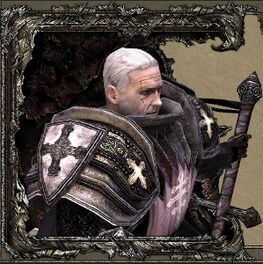 Description:
Very few of the Imperial Knights live long enough to the day when they are granted the rank of Paladins, the true defenders of the motherland. Needless to say, only the most deserving ones are honored in such way.
Attack Type -Melee
Attack Source -Weapon
Target -Single
Movement Range-4 hexes
Lv22 Attributes
Edit
Health -1100
Armor -30
Critical hit -0
Attack power -208
Initiative -40
Cover Points -2
L22 Stats
Edit
Endurance -55
Strenght -52
Intellect -24
Agility -28
Dexterity -29
Lv22 Magic Resistances
Edit
Fire -20%
Water -5%
Air -20%
Earth -10%
Mind -0%
Death -5%
Special Abilities
Edit
Acceleration -Gives unit a 5-hex boost to movement on next turn.
Warrior of Light
Ad blocker interference detected!
Wikia is a free-to-use site that makes money from advertising. We have a modified experience for viewers using ad blockers

Wikia is not accessible if you've made further modifications. Remove the custom ad blocker rule(s) and the page will load as expected.