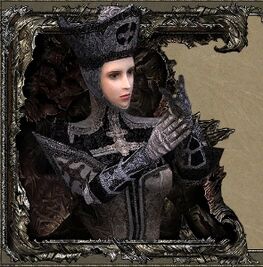 Description:
The most pure-hearted and faithful Nuns eventually become Matriarchs. With just a smile, a Matriarch can inspire faith in those who suffer and cure their ailments.
Attack Type -Ranged
Attack Source -Divine
Target -All
Movement Range-4 hexes
Lv13 Attributes
Edit
Health -510
Armor -5
Critical hit -0
Attack power -60
Initiative -10
Cover Points -0
Lv13 Stats
Edit
Endurance -17
Strenght -8
Intellect -40
Agility -52
Dexterity -14
Lv13 Magic Resistances
Edit
Fire -25%
Water -5%
Air -30%
Earth -10%
Mind -0%
Death -0%
Special Abiliies
Edit
Dispel Debuff -Removes negative effects from the target.