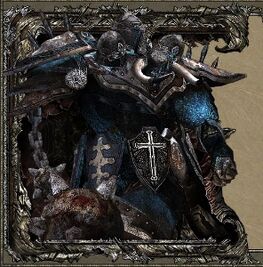 Description:
A suit of armor is the symbol of faith and life for many Imperial Knight. The curse of the righteouss Knight who falls by an impious hand, will bring his armor to life, and they will not rest until revenge has been exacted.
Attack Type -Melee
Attack Source -Weapon
Target -Single
Movement Range-2 hexes
Lv7 Attributes
Edit
Health -800
Armor -13
Critical hit -0
Attack power -144
Initiative -40
Cover Points -1
Lv7 Stats
Edit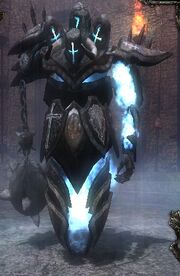 Endurance -40
Strenght -36
Intellect -1
Agility -7
Dexterity -7
Lv7 Magic Resistances
Edit
Fire -10%
Water -0%
Air -25%
Earth -45%
Mind -95%
Death -33%
Ad blocker interference detected!
Wikia is a free-to-use site that makes money from advertising. We have a modified experience for viewers using ad blockers

Wikia is not accessible if you've made further modifications. Remove the custom ad blocker rule(s) and the page will load as expected.