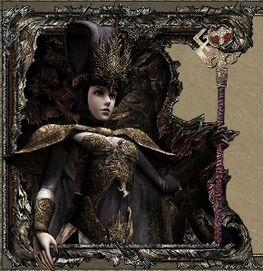 Sometimes even the Imperial Priestess is unable to help the wounded soldier. If her prayer to the Almighty is strong, then she will be known as a Hierophant.
Attack Type -Ranged
Attack Source -Divine
Target -Single
Movement Range-5 hexes
Starting Level - 22
XP for Next Level - 4161
Attributes
Edit
Health -900
Armor -9
Attack power -162
Initiative -10
Cover Points -0
Characteristics
Edit
Endurance -30
Strength -11
Intellect -65
Agility -46
Dexterity -23
Magic Resistances
Edit
Fire -20%
Water -25%
Air -30%
Earth -50%
Mind -5%
Death -30%
Leveling
Edit
+30 Health per level
+2.5 Attack Power per level
+1 Endurance per level
+1 Intellect per level
+1 Agility per level
Level 24
Edit
XP for Next Level - 4944
Health - 960
Attack Power - 167
Revive -Revives target unit.
Relentless Defender -Recharges all cover points for a friendly unit.
Ad blocker interference detected!
Wikia is a free-to-use site that makes money from advertising. We have a modified experience for viewers using ad blockers

Wikia is not accessible if you've made further modifications. Remove the custom ad blocker rule(s) and the page will load as expected.