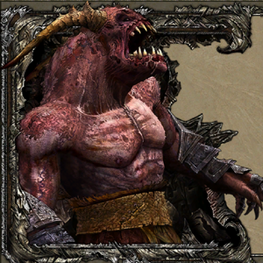 The spawn of Bethrezen and the lesser demons of the Legions, the Fiend is summoned into the world to cause riots and inspire fear in the hearts of mortals.
Character Info in Disciples III
Base Level
13
Attack Type
Melee
Class
Fighter
Attack Source
Weapon
Movement Range
5
Target
Single
Characteristics
Endurance
30
Attack Power
250
Strength
35
Health
900
Intellect
4
Cover
0
Agility
25
Initiative
50
Dexterity
55
Armor
1
Magic Defense
Fire
35%
Mind
5%
Earth
15%
Death
15%
Water
5%
Air
5%
Special Abilities
Poisonous Strike
Every level a Fiend gains 1 Endurance (30 hp) and 3.5 Dexterity.
Ad blocker interference detected!
Wikia is a free-to-use site that makes money from advertising. We have a modified experience for viewers using ad blockers

Wikia is not accessible if you've made further modifications. Remove the custom ad blocker rule(s) and the page will load as expected.