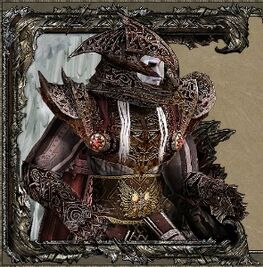 Description:
The origin of these warriors is covered in shroud of mystery. Only the spirits of the most valiant knights are reborn after death to bring the will and the voice of the Almighty into the world.
Attack Type -Melee
Attack Source -Air
Target -Single
Movement Range-5 hexes
Lv25 Attributes
Edit
Health -1080
Armor -27
Critical hit -0
Attack power -260
Initiative -40
Cover Points -1
L25 Stats
Edit
Endurance -54
Strenght -65
Intellect -32
Agility -30
Dexterity -31
Lv25 Magic Resistances
Edit
Fire -25%
Water -10%
Air -55%
Earth -5%
Mind -0%
Death -10%
Special Abilities
Edit
Teleport -Teleports in any location on the battlefield.
Warrior of Light
Ad blocker interference detected!
Wikia is a free-to-use site that makes money from advertising. We have a modified experience for viewers using ad blockers

Wikia is not accessible if you've made further modifications. Remove the custom ad blocker rule(s) and the page will load as expected.